TODAY IS ...
5 FEBRUARY
BIRTHDAYS –
1989 - Jeremy Sumpter is an American actor. He is known for playing the title role in the 2003 live-action film Peter Pan and the recurring role of J. D. McCoy in the NBC series Friday Night Lights since 2008.
1985 - Crystal Hunt  is an American actress  best known for playing Lizzie Spaulding on Guiding Light from 2003-2006. Since 2009, Hunt is currently known for playing Stacy Morasco on One Life to Live.
1978 - Shawn Reaves is an American actor most well known for the role of Harrison Davies, the brother of the main character Tru Davies (played by Eliza Dushku) on the Fox television series, Tru Calling. Other film credits include: Dandelion (2004), Auto Focus (2002) and Things Behind the Sun (2001).
1972 - Mary, Crown Princess of Denmark is the wife of Frederik, Crown Prince of Denmark.
1969 - Michael Sheen, OBE  is a Welsh actor who has become best known for his portrayals of well-known public figures: Tony Blair in The Deal, The Queen, and The Special Relationship, David Frost in both the stage production and film version of Frost/Nixon, and football manager Brian Clough in The Damned United.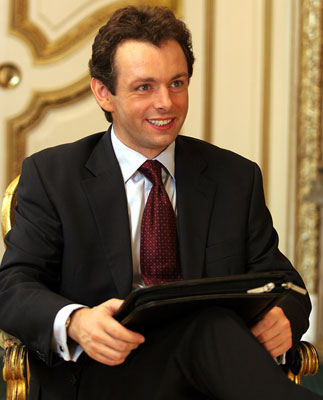 1967 - Chris Parnell  is an American comic actor best known as a cast member on Saturday Night Live from 1998-2006 and for his recurring role as Dr. Leo Spaceman on NBC's Emmy Award-winning comedy series 30 Rock.
1964 - Laura Linney is an American actress of film, television, and theatre. Linney has won three Emmy Awards, a Golden Globe, and a Screen Actors Guild Award. She has been nominated for the Academy Award three times and once for the BAFTA Award.
1946 - Charlotte Rampling, OBE is an acclaimed English actress whose  career spans four decades in English-language as well as French and Italian cinema.
OTHER EVENTS –
2009 – The Changeling starring Angelina Jolie, Gattlin Griffith and Michael Kelly commenced screening in Australia. A grief-stricken mother takes on the LAPD to her own detriment when it stubbornly tries to pass off an obvious impostor as her missing child, while also refusing to give up hope that she will find him one day.
2004 - Ewan McGregor, Albert Finney, Jessica Lange and Helena Bonham Carter star in Big Fish which commenced screening in Australia. A story about a son trying to learn more about his dying father by reliving stories and myths his father told him about himself.
2001 - Microsoft announces that Office 10 for Windows will be called Office XP, and that its next Windows operating system will be called Windows XP. The 'XP' name is short for 'experience'.
1999 - The members of *NSYNC made a guest appearance on 'Sabrina The Teenage Witch' on US TV.
1998 -  Starring Jack Nicholson, Helen Hunt and Greg Kinnear, As Good As It Gets started screening in Australia. A single mother/waitress, a misanthropic author, and a gay artist form an unlikely friendship
1998 – Starship Troopers starring Casper Van Dien, Dina Meyer, Neil Patrick Harris and Neil Patrick Harris commenced screening in Australia. Humans of a fascistic, militaristic future do battle with giant alien bugs in a fight for survival.
1997 – The so-called Big Three banks in Switzerland announce the creation of a $71 million fund to aid Holocaust survivors and their families.
1996- The first genetically modified, or GM, food goes on sale in British supermarkets. Genetically modified tomato puree, which will be available in Safeway and Sainsbury stores, has been produced from fruit which has had the rotting gene removed.
1994 - "Where On Earth Is Carmen San Diego," debuts on Fox TV
1992 - Disney's Beauty and the Beast is nominated for 6 Academy Awards. Among the nominations is one for Best Picture. It is the first time in the history of the Motion Picture Academy that an animated feature is nominated in this category
1988 - Mikhail Gorbachev and President Reagan nominated for the Nobel Peace Prize
1988 - Comic Relief holds the first "Red Nose Day", which raises 15 million in the United Kingdom for charity.
1987 – The Morning After starring  Jane Fonda, Jeff Bridges and Raul Julia commenced screening in Australia. A woman wakes up next to a murdered man. Did she do it herself, and if not, is she in danger herself?
1986 - Prince released the song "Kiss."
1983 - Toto went to No.1 on the US singles with 'Africa'; a No.3 hit in the UK.
1983 - Def Leppard's album 'Pyromania', started a 92 week run on the US charts, it never reached No.1 but sold over 6 million copies in the US alone.
1981 – Prime Minister Pierre Trudeau inducts Joni Mitchell into Canada's Juno Hall of Fame.
1981 - Largest Jell-O made (9,246 gallons of watermelon-flavor) in Brisbane
1981 - "Piaf" opens at Plymouth Theater New York City for 165 performances
1979 - The Pointer Sisters' version of Bruce Springsteen's "Fire" turns gold the same month as it reaches #2.
1977 - Mary MacGregor started a two week run at No.1 on the US singles chart with 'Torn Between Two Lovers', it made No.4 in the UK.
1974 - US Mariner 10 returns first close-up photos of Venus' cloud structure
1973 - Comic strip "Hagar The Horrible" debuts
1973 - Elton John's "Crocodile Rock" is certified gold
1972 - Sly and the Family Stone hit UK LP chart with There's A Riot Going On.
1972 - Paul Simon releases his first new song without Art Garfunkel, "Mother and Child Reunion." It becomes a Top Five hit. The LP, "Paul Simon," does well reaching #4 and the second hit off the record "Me and Julio Down by the Schoolyard," turns out to be one of quirkiest songs of the year
1972 - Number one hit on UK music charts - T Rex - Telegram Sam
1971 - Apollo 14, 3rd US manned Moon expedition, lands near Fra Mauro; Alan Shepard & Edward Mitchell (Apollo 14) walk on Moon for 4 hours
1970 - David Bowie recorded four songs at the BBC Paris Cinema, London, for the John Peel Sunday Concert radio show. This was guitarists Mick Ronson's first appearance with Bowie.
1969 - US population reaches 200 million
1969 - The Beatles "Yellow Submarine" album, the soundtrack to the animated film of that name, is awarded a gold record. The album contains only four previously unreleased Beatles songs: Harrson's "It's All Too Much" and "Only a Northern Song" and Lennon and McCartney's "Hey Bulldog" and "All Together Now."
1969 - Number one hit on UK music charts - The Move - Blackberry Way the group's only UK No.1.
1967 - The Beatles filmed part of the promo clip for 'Penny Lane' around the Royal Theatre, Stratford, London and walking up and down Angel Lane.
1966 - Surf-rockers the Marketts enter the Hot 100 for the fifth and last time with the "Batman Theme." It reaches #17 in nine weeks on the charts.
1966 – Petula Clark had her second No.1 in the US singles chart with 'My Love', (it made No. 4 in the UK).
1965 - Dusty Springfield releases Your Hurtin' Kind Of Love in UK.
1962 - HSS-2 Sea King became the first helicopter to exceed 200 m.p.h. in an officially sanctioned trial.
1961 - Two big influences of '60s pop make their debuts. Mary Wells' with "Bye Bye Baby" and Gene Pitney with "Love My Life Away."
1960 - Number one hit on UK music charts - Anthony Newley – Why
1960 – No. 1 Chart Toppers Pop Hit: "Teen Angel," Mark Dinning. Dinning was surrounded by music from an early age: three of his sisters formed the group the Dinning Sisters (which had a top 10 song with the Oscar-winning "Buttons and Bows") and his babysitter was Patti Page. The song debuts at No. 100 on the Hot 100.
1959 - "Redhead" opens at 46th St Theater NYC for 455 performances
1958 - Vanguard TV-3 back-up launches into Earth orbit; reaches 6 km
1958 - The National Academy of Recording Arts and Sciences (NARAS) formed a New York chapter. NARAS is better known as the Grammy Awards organization
1957 - Bill Haley arrives in London for his first British tour, the first by any American rock star. 5,000 screaming fans greet him at the Heathrow Airport.
1956- Darryl Zanuck resigned from 20th Century Fox, the studio he built into a powerhouse. He later won back the chairmanship in 1962 only to be ousted finally in 1970.
1956 - 7th Winter Olympics games close at Cortina d'Ampezzo, Italy
1955 - New York City's WNEW-AM announces the winners of its annual music popularity poll: Perry Como (Male Singer), Patti Page (Female Singer), the Crew-Cuts (Vocal Group), and Ray Anthony (Orchestra).
1955 - "Hearts of Stone" by the Fontaine Sisters topped the charts and stayed there for 3 weeks
1953 - 5th Emmy Awards I Love Lucy, Thomas Mitchell & Helen Hayes win
1953 - "Peter Pan" by Walt Disney opens at Roxy Theater, NYC
1952- New York City is the first to adopt the three light traffic lights-red, yellow, green.
1948 - Gretchen Fraser becomes first US woman Olympics slalom champion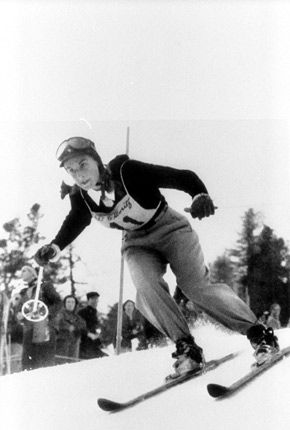 1947 - Australia's first cloud-seeding experiment resulting in artificially produced rain is carried out at Bathurst, New South Wales.
1942 - "Woman of the Year," starring Hepburn & Tracy opens at Radio City
1940 - Glenn Miller & his Orchestra record "Tuxedo Junction"
1937- Charlie Chaplin's film Modern Times premiered. Chaplin was inspired to lampoon modern technological madness when he was invited to view the auto assembly production lines in Detroit and saw men moving like machines.
1934 - The U.S. Patent Office grants a patent to the Ingersoll-Waterbury Clock Company, of Connecticut, for the first Mickey Mouse watch.
1931 - Eddie Cantor makes his debut radio appearance, singing on Rudy Vallee's Fleischmann Hour.
1929 - Jimmy Hatlo's "They'll Do It Every Time" cartoon debuts in San Francisco
1927 - Buster Keaton's movie "The General" released
1924 - The Royal Greenwich Observatory begin broadcasting the hourly time signals known as the Greenwich Time Signal or the "BBC pips".
1920 - The very first 'Readers Digest' appears on the shelves
1919 - Charlie Chaplin, Mary Pickford, Douglas Fairbanks, and D.W. Griffith launch United Artists.
1918 - Russian Orthodox Church formally separates from Russia following the Bolshevik Revolution.
1917 - The current constitution of Mexico is adopted, establishing a federal republic with powers separated into independent executive, legislative, and judicial branches.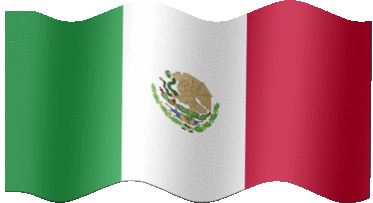 Flag from www.abflags.com
1916 - Enrico Caruso recorded "O Sole Mio" for the Victor Talking Machine Company
1869 - World's largest gold nugget: The Welcome Stranger, weighing more than 2,250 troy ounces, is found in Victoria, Australia.
1861 - Samuel Goodale of Cincinnati, OH patented the moving picture peep show machine. One put in a coin and turned a crank on the side of the ornately decorated box and voila, a flickering movie appeared! There still are peep shows today, but of an entirely different variety. They cost between $5.00 and $25.00 a peep, we're told.
HOLIDAYS AND OBSERVANCES
•    St. Agatha
•    Liberation from the Alberoni Occupation in San Marino
•    Runeberg's Birthday in Finland where Runeberg's tart are made specially for the annual holiday